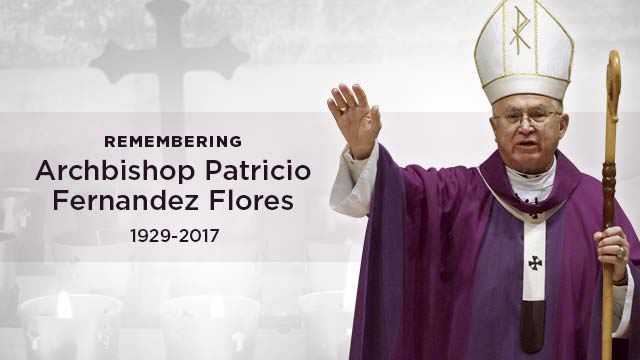 Spectrum News looks back at the life of Archbishop Emeritus Patricio Fernandez Flores, who died at age 87 on Jan. 9, and was laid to rest on Jan. 17. Flores was the fourth archbishop of San Antonio, and the first Mexican-American elevated to the hierarchy in the Catholic Church in the United States.
More Photos of Archbishop Flores
July 26, 1929 – Born in Ganado, the sixth of nine children of Patricio and Trinidad Fernandez Flores
1947 – Leads a boycott in an effort to integrate a segregated school in Pearland
May 26, 1956 – Ordained to the Catholic priesthood by Bishop Wendelin J. Nold in St. Mary's Cathedral in Galveston. His first Mass was offered in Guardian Angel Parish in Pasadena.
1956 – Assigned as assistant pastor at Holy Name Parish in Houston
1963 – Assigned as pastor of Guardian Angel Parish in Pasadena
1967 – Assigned as pastor of the combined parishes of St. Joseph and St. Stephen. During this time he was also the director of the Cursillo movement and the local director for the bishop's Committee for the Spanish Speaking.
March 18, 1970 – Appointed by Pope Paul VI as an auxiliary bishop of San Antonio
May 5, 1970 – Consecrated a bishop in San Antonio by Archbishop Luigi Raimondi, then apostolic delegate to the United States. Bishop Flores was the first Mexican-American elevated to the hierarchy of the Catholic Church in the United States.
June 1970 – Supports Holy Cross High School and helps the west side boys' school keep its doors open.
1970 – Assigned as pastor of St. Patrick's Parish. Made his debut in journalism for the archdiocesan newspaper – then known as the Alamo Messenger – on Dec. 11 as guest author of the "Priest's Insight" column. His topic was Our Lady of Guadalupe.
October 1971 – Became national chairman of PADRES, which later became the National Association of Hispanic Priests.
November 1971 – Appointed chairman of the Texas State Advisory Committee to the U.S. Civil Rights Commission.
June 8, 1972 – Opening of the Mexican American Cultural Center (MACC). Receives honorary degree from Our Lady of the Lake College
1973 – Assigned to Immaculate Conception Parish. Receives honorary degree from St. Edward's University in Austin
April 1974 – Bishop Patrick Flores Scholarship Fund established
December 1974 – Recorded an album titled "The Singing Bishop," which included five religious hymns and five popular Hispanic tunes, or "rancheros." Also helped found what today is Citizens Organized for Public Service (COPS), a grass roots organization built around the parishes to help people better their condition.
April 1976 – City of Dallas named 5.65 acre park at the corner of Dow Court and Finklen Street there as "Bishop Flores Park." Served on or was the head of numerous committees, such as the National Conference of Catholic Bishops committee on Latin America, Mexican American Affairs, Ecumenical Center for Health and Religion, and the 1976 Bicentennial Committee
August 1976 – Arrested in Ecuador. He and a number of other bishops were attending a Latin American Bishops' Conference near Quito when the sessions was raided by the Army and the bishops held in custody for a day prior to being ordered to leave the country.
October 1976 – Leads a festive pilgrimage to Mexico City for the dedication of the new Basilica of Our Lady of Guadalupe
December 1976 – Helps found Telethon Navideno, an annual community fundraising effort to provide aid for underprivileged families at Christmas
May 29, 1978 – Installed as bishop of the Diocese of El Paso
Oct. 13, 1979 – Installed as archbishop of San Antonio
May 5, 1981 – Ground broken for the Patrick Flores Branch of the Houston Public Library at 110 Milby Street there.
June 7, 1981 – Put forth a charter for his time as archbishop, called "A New Pentecost." It contained five points:
A call to ministry – stressing the role of the laity.
Parish development – focusing on the parish to develop lay leaders and work with COPS.
Preference for persons with special needs – developing new programs for the poor, elderly and handicapped.
Reorganization of diocesan structures to focus on service and increased attention to the rural areas.
Development of the Emmaus program for priestly development.
November 1981 – Founding of Catholic Television of San Antonio, one of only three diocesan television stations in the United States at that time
May 25, 1982 – Pallium was conferred on him by Pope John Paul II
Jan. 2, 1983 – Groundbreaking for new chancery building on West Woodlawn Avenue
Spring 1983 – Founding of San Antonio National Historical Park
August 1983 – Attends Synod of Bishops at the Vatican as a delegate, along with participating in ad limina visit with bishops from the United States. Is in Rome for nine weeks
Jan. 29, 1984 – Dedication of new chancery by Cardinal Pio Laghi, apostolic delegate to the United States
February 1984 – Receives National Brotherhood and Humanitarian Award from the National Association of Christians and Jews
1985 – Traveled to Cuba to determine the future of the church there
1986 – Begins annual archbishop's brunch to benefit the Battered Women's Shelter of Bexar County
Sept. 13-14, 1987 – Visit of Pope John Paul II to San Antonio
Sept. 18, 1987 – Meets President Ronald Reagan in the White House along with other members of the Hispanic Scholarship Fund Board
1987 – Publication of book The Mariachi Bishop by Brother Martin McMurtry, SM
February 1988 – Travels to Peru to meet with members of the Missionary Society of St. James from the Archdiocese of San Antonio, namely Msgr. Edmond Carmody and Father Jim Cashin
April 1988 – Ad limina visit with Pope John Paul II. Texas bishops visit France, home of the first Texas bishops, as a tribute to the early fathers of the church in Texas
1989 – Tenth anniversary as archbishop of San Antonio
1990 – Traveled to Eastern Europe for 10 days to determine the future of the church there
1991 – Began program of collecting guitars for needy children, with more than 6,000 being collected up to current times
March 1993 – Establishes Archdiocese of San Antonio Endowment Fund
Sept. 25, 1993 – Ad limina visit with Pope John Paul II
May 22, 1994 – Issues proclamation for Fifth Archdiocesan Synod
Nov. 27, 1994 – Opening liturgy for Synod at San Fernando Cathedral
May 5, 1995 – Celebrates silver anniversary as a bishop with Mass at Municipal Auditorium and featured in special edition of Today's Catholic.
May 31, 1998 – Signing of Synod documents at Freeman Coliseum
June 10, 1999 – Receives B'nai B'rith Humanitarian Award at ceremony at OMNI Hotel
Aug. 28, 1999 – Observance of the 125th anniversary of the founding of the Archdiocese of San Antonio
Oct. 4-15, 1999 – Makes a pilgrimage to Lourdes, Rome and Padua in thanksgiving to St. Anthony of Padua for answering prayers
Jan. 1, 2000 – Begins jubilee year by opening holy doors at Little Flower Basilica
June 28, 2000 – Held hostage in the chancery along with secretary Myrtle Sanchez. Released unharmed the same day
March 10, 2001 – Undergoes four-and-a-half hours of emergency open heart surgery at CHRISTUS Santa Rosa Hospital to unclog seven blockages
May 13, 2001 – Signs agreement establishing covenant partnership between Archdiocese of San Antonio and Archdiocese of Tegucigapla, Honduras
Sept. 14, 2001 – Returns safely to San Antonio after being stranded in St. Louis airport following Sept. 11 air disaster
July 14, 2002 – Holds telethon fundraiser in chancery atrium to raise funds for summer flood victims. The event, along with other donations solicited by the archbishop, exceeds $100,000.
Sept. 11, 2002 – Leads interfaith prayer service at Little Flower Basilica for religious leaders, civic dignitaries and worshippers in recognition of one year anniversary of Sept. 11 tragedy
2002 – Archdiocesan Synod Year of Ministry
2003 – Archdiocesan Synod Year of Faith Formation and Social Concerns
December 2003 – Teletón Navideño airs for the first time on CTSA
Jan. 19, 2004 – Receives CTSA Leadership Award at banquet at University of the Incarnate Word Skyroom
March 5, 2004 – Special retirement edition of Today's Catholic devoted to career of Archbishop Flores
June 13, 2004 – Mass of Thanksgiving
July 16, 2004 – 75th birthday
July 29, 2004 – MACC celebration of archbishop's 75th birthday
December 29, 2004 – Retirement accepted by Pope Benedict XVI
October 6, 2007 – Documentary "A Migrant's Masterpiece" premieres
Jan. 9, 2017 – Dies of pneumonia and congestive heart failure at age 87 - Padua Place residence for retired priests
Source: Archdiocese of San Antonio