Nun with chainsaw spotted cleaning up in aftermath of Hurricane Irma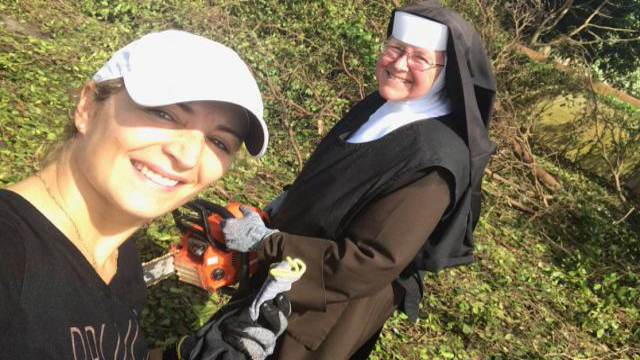 MIAMI -- An off-duty Miami-Dade Police Department cop captured video and photos of a somewhat unusual but heartwarming sight on Tuesday.
A nun from a local Catholic high school was spotted, chainsaw in hand, helping cut trees and clear roadways in the aftermath of Hurricane Irma.
Sister Margaret Ann, wearing the traditional head-to-toe black tunic and veil as well as a pair of work gloves, donned a big smile in a couple of pictures as she worked to clear the road.
Staff members for the Miami-Dade Police Department showed their deep appreciation for Sister Margaret Ann's act of kindness, posting: "As we recover from #HurricaneIrma, these acts of kindness remind us all that we are #OneCommunity in #MiamiDadeCounty! 🙏 Thank you Sister and all of our neighbors that are working together to get through this! #MiamiDadeStrong"