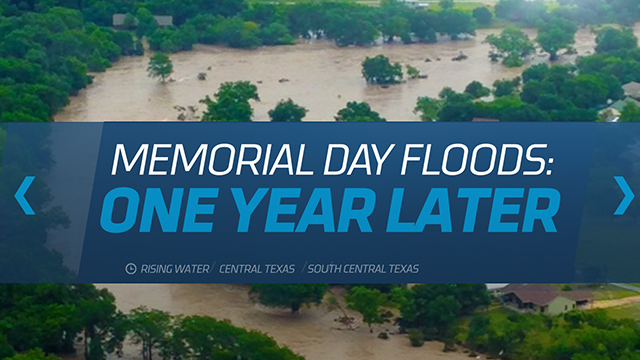 On the anniversary of the Memorial Day Floods, Time Warner Cable News takes a look back at the events that unfolded that fateful weekend. See how Central Texas has rallied as a community in the year since, to continue the healing and recovery process.
Thoroughbred Farms is not considered in a floodplain, but the Southeast Travis County neighborhood has flooded twice in the last seven months. Several residents said they plan to move out of the neighborhood if they can afford to leave.
05/28/2016 09:19 PM
Residents of Blanco County are saying better days are ahead. Three people died and at least 150 homes were damaged in last year's Memorial Day weekend floods. Our Carlos Garcia spent the day in Blanco and has more on how the community is holding up -- one year later.
05/26/2016 10:40 PM
---
View of House Park at Lamar Boulevard and 15th Street on May 25, 2015:

---