Explore NY: Special Section on Everything You Love About New York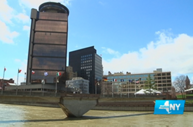 Beginning Thursday, Time Warner Cable News is embarking on a journey to Explore New York -- and we are taking you along for the ride.
We'll have stories every day through Memorial Day with features on the state's rich history and culture, taste some of the regions' unique food and drink, introduce some of the businesses and products that call New York home, and step outside and enjoy the most scenic locations across the state.
On our website's Explore NY section and our app, you'll find quizzes that test your trivia knowledge, photo galleries of the great places of the state, Web exclusive video, a comprehensive guide to make your travel easier and much more. Be a part of exploring the Empire State by sharing your experiences with us on Twitter using the hashtag #ExploreNY, or by posting your photos to our Facebook page.
To kick off our initiative, Time Warner Cable News reporter Seth Voorhees met a man whose goal is to travel to just about every corner of the state -- and to tell you about it.
"You know, maybe 15 years ago it was really cool to be down on Rochester and Buffalo and Syracuse and say, 'Man, there's nothing to do here. Nothing going on,'" Chris Clemens said.
Chris Clemens is out to dispel that notion.
"I think it's become cool to be proud of all of our rust belt cities and what's in between," he said.
Spectrum customers get full access
to all our video, including our live stream.