Dunkirk Mayor Anthony Dolce announced plans that include working with the county land bank to remediate more than 10 properties, economic development efforts, and reconstruction of East 7th Street.
03/02/2015 10:40 PM
The Elmira man convicted in the double murder of a Chautauqua County couple will spend decades behind bars. As Time Warner Cable News reporter Mark Goshgarian tells us, Davide Coggins apologized to the victim's family before he was sentenced.
Updated 03/02/2015 06:02 PM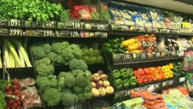 This month's Healthy Living special focuses on food -- from what we put into our bodies and our children's bodies, to reading nutrition labels. Plus, we touch on the latest medical advancements.
Latest Cooking at Home Recipe
Stuffed peppers with chorizo sausage instead of the typical ground beef.
03/03/2015 03:00 PM
Updated 03/02/2015 05:06 PM