Melting overnight caused pockets of flooding on some area streets Tuesday night into Wednesday. That created several issues Wednesday morning, with dropping temperatures increasing the threat of icy roads into Thursday.
01:00 PM
Jamestown Police say the pink packaged heroin that caused an overdose death last week was not laced with any other chemicals.
12:23 PM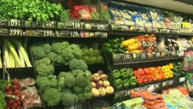 This month's Healthy Living special focuses on food -- from what we put into our bodies and our children's bodies, to reading nutrition labels. Plus, we touch on the latest medical advancements.
Latest Cooking at Home Recipe
Stuffed peppers with chorizo sausage instead of the typical ground beef.
03/03/2015 02:00 PM
Updated 03/02/2015 04:06 PM