The water main break that shut down Bradford, Pennsylvania served as a wake up call to several other Southern Tier communities. As Time Warner Cable News reporter Mark Goshgarian tells us, the disaster prompted the city of Olean to take stock.
03/05/2015 06:51 PM
Jamestown police said Michael Gunn was selling powder cocaine from a room at the America's Best Value Inn on Fairmont Avenue.
03/05/2015 10:26 AM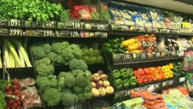 This month's Healthy Living special focuses on food -- from what we put into our bodies and our children's bodies, to reading nutrition labels. Plus, we touch on the latest medical advancements.
Latest Cooking at Home Recipe
Simple rice pudding with bananas Foster and whipped cream.
05:00 AM
Updated 03/04/2015 01:40 PM