Jamestown police said Michael Gunn was selling powder cocaine from a room at the America's Best Value Inn on Fairmont Avenue.
03/05/2015 10:26 AM
Students say the r-word is offensive and derogatory, and by ending the use of it they hope to create more positive and accepting communities.
03/05/2015 06:09 AM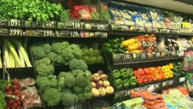 This month's Healthy Living special focuses on food -- from what we put into our bodies and our children's bodies, to reading nutrition labels. Plus, we touch on the latest medical advancements.
Latest Cooking at Home Recipe
Simple rice pudding with bananas Foster and whipped cream.
05:00 AM
Updated 03/04/2015 01:40 PM