With not much time to go before demolition begins on the Orange County government center, several residents have filed a lawsuit to stop it. Time Warner Cable News reporter Jessica Chen has the story.
02:29 PM
Cornelius Williams, 21, and Houston Brown, 19, are charged with attempted murder.
03:40 PM
In this March edition of the Cooking at Home half-hour special, chef Dan Eaton shows you how to make seven delicious recipes to keep your kids healthy -- from family meals to brain-power food. Plus, be sure to look for many other great recipes throughout the month.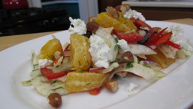 Latest Cooking at Home Recipe
Mediterranean style salad tossed with orange juice, fresh dill and black olives.
09:45 AM