Kiryas Joel will oversee the State Environmental Quality Review process for the annexation of 500 acres of the Town of Monroe.
03:54 PM
It's back to business as usual in Albany as lawmakers attempt to move past Assembly Speaker Sheldon Silver's corruption scandal, as more information is coming out about possible replacements for Silver. Nick Reisman has more from the state Capitol.
12:20 PM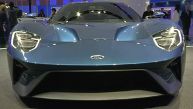 National Auto Show
Our Ed Keiner shares some of his favorite highlights from this year's 2015 North American International Auto Show.
01/23/2015 03:48 PM