Orange County officials were shadowing health officials Saturday to help educate residents about the dangers carbon monoxide. Jackson Wang reports.
03/28/2015 01:42 PM
While we're already a week into spring, mother nature may not have gotten the memo.
03/28/2015 07:17 PM
In this March edition of the Cooking at Home half-hour special, chef Dan Eaton shows you how to make seven delicious recipes to keep your kids healthy -- from family meals to brain-power food. Plus, be sure to look for many other great recipes throughout the month.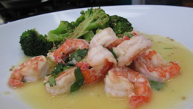 Latest Cooking at Home Recipe
Garlic and ginger sauteed shrimp with orange juice, cilantro, sesame and soy.
03/27/2015 05:00 AM