Martinez will be the first recipient of the Óscar de la Renta Excellence Award, honoring the work of Dominican-Americans.
11:17 AM
Concern over the Islamic State's reach and influence is growing now that three Brooklyn men have been arrested on charges they plotted to join the terror group.
Updated 01:44 PM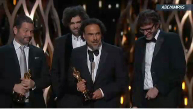 "Birdman" won the big award Sunday night at the Oscars while host Neil Patrick Harris had some fun at the expense of the industry. Film critic Neil Rosen filed the following report.