Sources confirm the finances of Senate Majority Leader Dean Skelos are under investigation. Meanwhile, the race continues in the other chamber of the legislature to replace Assembly Speaker Sheldon Silver. Nick Reisman has a wrap up of the latest developments at the Capitol.
03:27 PM
The Orange County District Attorney is not charging members of the Monroe-Woodbury Junior Varsity Team in connection to an abuse investigation.
02:49 PM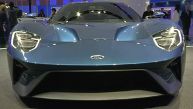 National Auto Show
Our Ed Keiner shares some of his favorite highlights from this year's 2015 North American International Auto Show.
01/23/2015 03:48 PM