Several Hudson Valley communities have begun declaring snow emergencies.
11:49 AM
The Division of Homeland Security and Emergency Services has released a series of safety tips as temperatures drop below zero across the region.
01/31/2015 02:39 PM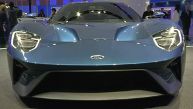 National Auto Show
Our Ed Keiner shares some of his favorite highlights from this year's 2015 North American International Auto Show.
01/23/2015 03:48 PM