Three Attica corrections officers who were about to go on trial admitted Monday to taking part in a bloody attack on an inmate in 2011. Prosecutors said the plea deals are a first in New York state history.
Updated 02:34 PM
Customers donated $770,000, so with that match that's more than $1.5 million -- the most the company has raised since the program's inception.
02:09 PM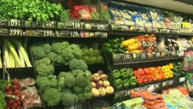 This month's Healthy Living special focuses on food -- from what we put into our bodies and our children's bodies, to reading nutrition labels. Plus, we touch on the latest medical advancements.