The proposed budget agreement shows a budget heavily centered around education reform and funding. Karen Tararache has the details.
05:30 PM
State legislators working as private practice attorneys will now be required to disclose their most profitable legal clients. Geoff Redick reports.
06:30 PM
In this March edition of the Cooking at Home half-hour special, chef Dan Eaton shows you how to make seven delicious recipes to keep your kids healthy -- from family meals to brain-power food. Plus, be sure to look for many other great recipes throughout the month.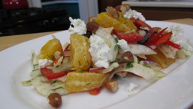 Latest Cooking at Home Recipe
Mediterranean style salad tossed with orange juice, fresh dill and black olives.
09:45 AM