Hudson Valley lawmakers met in Westchester County to demand that Congress pass a passenger rail bill that would increase safety after the deadliest accident in Metro-North history occurred in early February.
03:15 PM
The debate over education raged on Monday at the Capitol, with those for and against eduation reform rallied just a couple hours apart. Time Warner Cable News reporter Tanja Rekhi has more.
06:30 PM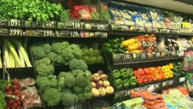 This month's Healthy Living special focuses on food -- from what we put into our bodies and our children's bodies, to reading nutrition labels. Plus, we touch on the latest medical advancements.