Residents at Thursday's Monroe Town Board meeting weighed in on what's become a controversial decision in that community The DEC's decision to grant the Village of Kiryas Joel lead agency status in the environmental review of their proposed Monroe land annexation. Michael Howard was at Thursday's meeting and has more on what was said.
01/29/2015 11:35 PM
Police have found the dog that was beaten in a Poughkeepsie park last year.
01/29/2015 04:29 PM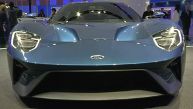 National Auto Show
Our Ed Keiner shares some of his favorite highlights from this year's 2015 North American International Auto Show.
01/23/2015 03:48 PM