A woman is behind bars tonight after police say she got into a fight at a bar then slashed an officer trying to get away and that's just the beginning. Reporter Michael Howard has the details.
03/27/2015 06:35 PM
It's been an ongoing problem at the Park & Rides in Orange County. Drivers parking illegally because there's not enough spots. Reporter Jessica Chen explains, relief is on the way.
03/27/2015 04:03 PM
In this March edition of the Cooking at Home half-hour special, chef Dan Eaton shows you how to make seven delicious recipes to keep your kids healthy -- from family meals to brain-power food. Plus, be sure to look for many other great recipes throughout the month.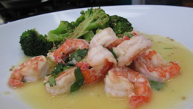 Latest Cooking at Home Recipe
Garlic and ginger sauteed shrimp with orange juice, cilantro, sesame and soy.
03/27/2015 05:00 AM