Those looking to become potential homeowners in Newburgh were on-hand Saturday at Habitat Newburgh's Headquarters.
01/31/2015 03:50 PM
The youth center has been closed after it was destroyed in a fire on Wednesday. Although the fundraiser was scheduled before the fire, organizers say fundraisers for facilities like these cannot be undervalued.
01/31/2015 03:45 PM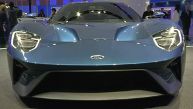 National Auto Show
Our Ed Keiner shares some of his favorite highlights from this year's 2015 North American International Auto Show.
01/23/2015 03:48 PM