WATCH: Raw video of Sheldon Silver leaving the state Capitol after Assembly Democrats announce Joe Morelle will be interim Speaker.
01/27/2015 10:20 PM
Port Jervis Police say 18-year-old Alessandra Maida fell through the ice behind her home on North Maple Avenue Tuesday morning.
09:48 AM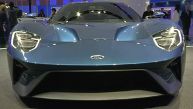 National Auto Show
Our Ed Keiner shares some of his favorite highlights from this year's 2015 North American International Auto Show.
01/23/2015 03:48 PM