The New York State Gaming Facility Location Board releases a robust report, detailing its findings through the process of making recommendations for three upstate casinos last year. Geoff Redick has a complete review of the report, including what it could mean for one region lobbying for a second license.
Updated 01:00 PM
David Carlson has been re-indicted by a Westchester County grand jury on a second degree murder charge.
02/26/2015 06:09 PM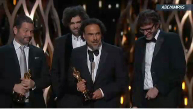 "Birdman" won the big award Sunday night at the Oscars while host Neil Patrick Harris had some fun at the expense of the industry. Film critic Neil Rosen filed the following report.