A number of presidents for SUNY schools and other officials are pushing for state legislators to put together a new investment fund for the university system.
03:36 PM
The winter weather became part of the heated debate over the Monroe land annexation process by the village of Kiryas Joel. The Village held a public hearing on the project Tuesday night, despite the push by many, including county leaders, to postpone the meeting so many more could attend. Time Warner Cable News reporter Briggette Sayegh has more.
03/03/2015 10:00 PM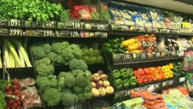 This month's Healthy Living special focuses on food -- from what we put into our bodies and our children's bodies, to reading nutrition labels. Plus, we touch on the latest medical advancements.