For months the Hudson Line was the Heroin Line. State Attorney General Eric Schneiderman says his office busted up a major drug ring, that was funneling heroin from New York City to the Hudson Valley by train. Briggette Sayegh reports.
03/26/2015 10:00 PM
The Belleayre Music Festival has been bringing people to Belleayre Mountain for the past 23 years, but this year, Candace Dunkley reports economic difficulties have caused the festival to take a break.
03/26/2015 06:28 PM
In this March edition of the Cooking at Home half-hour special, chef Dan Eaton shows you how to make seven delicious recipes to keep your kids healthy -- from family meals to brain-power food. Plus, be sure to look for many other great recipes throughout the month.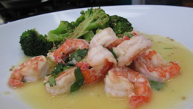 Latest Cooking at Home Recipe
Garlic and ginger sauteed shrimp with orange juice, cilantro, sesame and soy.
05:00 AM