It's called Project Sticker Shock, and it's a program aimed at keeping alcohol out of the hands of underage drinkers. Time Warner Cable News reporter Jessica Chen explains how.
01/28/2015 04:57 PM
As the candidates jockey for Assembly Speaker, Upstate New York lawmakers and lobbies hope the new leader will look north of NYC. Geoff Redick reports.
01/28/2015 04:57 PM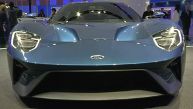 National Auto Show
Our Ed Keiner shares some of his favorite highlights from this year's 2015 North American International Auto Show.
01/23/2015 03:48 PM