A midnight deadline is looming for lawmakers in Albany. They're working into the night in hopes of passing an on-time budget.
Updated 08:30 PM
New Yorkers voted on several propositions during the 2014 election, one that would allow bills to be given to lawmakers electronically. Five months after being approved, and there's no sign of that yet at the State Capitol. Jon Dougherty has more.
04:15 PM
In this March edition of the Cooking at Home half-hour special, chef Dan Eaton shows you how to make seven delicious recipes to keep your kids healthy -- from family meals to brain-power food. Plus, be sure to look for many other great recipes throughout the month.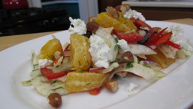 Latest Cooking at Home Recipe
Mediterranean style salad tossed with orange juice, fresh dill and black olives.
09:45 AM