The 6 foot, 7 inch tall former power forward who had been suffering from congestive heart failure, also spent time with the New Jersey Nets, Charlotte Hornets, Milwaukee Bucks and Miami Heat.
02/28/2015 11:45 AM
New York State Gaming Facility Location Board says there were several reasons why they recommended Montreign Resort Casino for the Catskills region. Time Warner Cable News reporter Jackson Wang has reaction.
02/27/2015 08:00 PM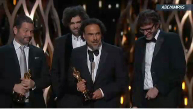 "Birdman" won the big award Sunday night at the Oscars while host Neil Patrick Harris had some fun at the expense of the industry. Film critic Neil Rosen filed the following report.