Hudson Valley lawmakers met in Westchester County to demand that Congress pass a passenger rail bill that would increase safety after the deadliest accident in Metro-North history occurred in early February.
03:15 PM
Three Attica corrections officers who were about to go on trial admitted Monday to taking part in a bloody attack on an inmate in 2011. Prosecutors said the plea deals are a first in New York state history.
Updated 02:34 PM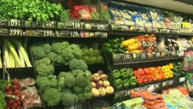 This month's Healthy Living special focuses on food -- from what we put into our bodies and our children's bodies, to reading nutrition labels. Plus, we touch on the latest medical advancements.