Hudson Valley lawmakers are meeting in Westchester County to demand that Congress pass a passenger rail bill that would increase safety after the deadliest accident in Metro-North history occurred in early February.
12:15 AM
It's beginning to look a lot like winter is here to stay. Time Warner Cable News reporter Candace Dunkley has more about what people in the Hudson Valley are saying about the snowy start to March.
03/01/2015 06:40 PM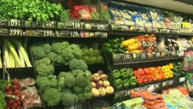 This month's Healthy Living special focuses on food -- from what we put into our bodies and our children's bodies, to reading nutrition labels. Plus, we touch on the latest medical advancements.