Reporter Barry Wygel has the latest on what the new state budget deal does, and doesn't have included in it.
06:53 AM
Dozens gathered in front of the Ulster County Vietnam Memorial yesterday to commemorate those who made the ultimate sacrifice during the Vietnam War.
03/29/2015 07:52 PM
In this March edition of the Cooking at Home half-hour special, chef Dan Eaton shows you how to make seven delicious recipes to keep your kids healthy -- from family meals to brain-power food. Plus, be sure to look for many other great recipes throughout the month.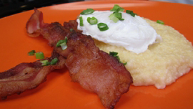 Latest Cooking at Home Recipe
Tasty Southern style breakfast or brunch.
08:53 AM