In what is surely a collectors dream the Kaaterskill postcard club hosted it's annual postcard show.
03:16 PM
Officials in New York state are warning people to be cautious after some scientists say ticks carrying Lyme disease are showing earlier in the spring. Reporter Michael Howard has the details.
03/28/2015 08:24 PM
In this March edition of the Cooking at Home half-hour special, chef Dan Eaton shows you how to make seven delicious recipes to keep your kids healthy -- from family meals to brain-power food. Plus, be sure to look for many other great recipes throughout the month.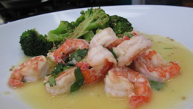 Latest Cooking at Home Recipe
Garlic and ginger sauteed shrimp with orange juice, cilantro, sesame and soy.
03/27/2015 05:00 AM