Sullivan West Central School District will be getting a little extra security. Time Warner Cable News reporter Candace Dunkley has the details.
08:00 PM
A dog that was seen by thousands on social media allegedly being beaten by a man in a Poughkeepsie park is now up for adoption. Time Warner Cable news Reporter Michael Howard has more.
03:45 PM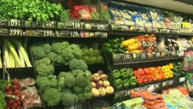 This month's Healthy Living special focuses on food -- from what we put into our bodies and our children's bodies, to reading nutrition labels. Plus, we touch on the latest medical advancements.