Planning Board officials in the Town of Mamakating are asking residents to learn from the past and move forward. This, after they approved the controversial Hasidic girls school being proposed for the Village. Reporter Jessica Chen has more.
04:58 PM
It's been just over a week since a 27-year-old woman's body was found dumped in Hyde park. Michael Howard reports.
03:14 PM
In this March edition of the Cooking at Home half-hour special, chef Dan Eaton shows you how to make seven delicious recipes to keep your kids healthy -- from family meals to brain-power food. Plus, be sure to look for many other great recipes throughout the month.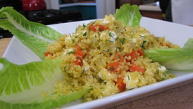 Latest Cooking at Home Recipe
Healthy and tasty light meal or refreshing side dish.
05:00 AM