Sullivan West Central School District will be getting a little extra security. Time Warner Cable News reporter Candace Dunkley has the details.
03/03/2015 08:00 PM
This winter has been a tough one. But one Sullivan county community is making things a little easier for people in need by using a tree. Jackson Wang has the story.
03/03/2015 11:00 PM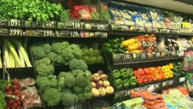 This month's Healthy Living special focuses on food -- from what we put into our bodies and our children's bodies, to reading nutrition labels. Plus, we touch on the latest medical advancements.