It's beginning to look a lot like winter is here to stay. Time Warner Cable News reporter Candace Dunkley has more about what people in the Hudson Valley are saying about the snowy start to March.
03/01/2015 06:40 PM
Authorities say two houses were affected by the fire.
03/01/2015 03:08 PM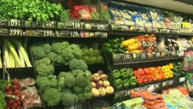 This month's Healthy Living special focuses on food -- from what we put into our bodies and our children's bodies, to reading nutrition labels. Plus, we touch on the latest medical advancements.