When they got there, the fire was so bad; the four residents had to jump out of the second floor to escape the flames.
02:22 PM
Returning from a trip to Florida during the winter doesn't normally earn you the kind of heroes welcome one Hudson Valley man received Saturday at a Newburgh airport. Michael Howard explains.
02:00 PM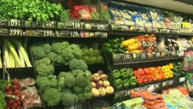 This month's Healthy Living special focuses on food -- from what we put into our bodies and our children's bodies, to reading nutrition labels. Plus, we touch on the latest medical advancements.