Slippery roads caused multiple crashes involving 23 vehicles on Interstate 84. Jackson Wang has more on the pileup.
Updated 05:30 PM
A Kingston man is accused of selling drugs near a school. Time Warner Cable News reporter Candace Dunkley has the story.
06:45 PM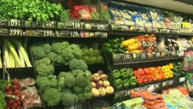 This month's Healthy Living special focuses on food -- from what we put into our bodies and our children's bodies, to reading nutrition labels. Plus, we touch on the latest medical advancements.