New York State Assembly members met late Monday to determine the next step after Sheldon Silver's arrest. They asked him to step down.
01/26/2015 09:18 PM
While the Hudson Valley won't see as much snow as New York City could, the area will receive a significant amount. Residents spent the early part of Monday getting ready for the storm. Time Warner Cable News reporter Jessica Chen has more.
01/26/2015 10:27 PM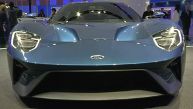 National Auto Show
Our Ed Keiner shares some of his favorite highlights from this year's 2015 North American International Auto Show.
01/23/2015 03:48 PM