A deal has been reached for Joe Morelle, a Rochester-area Democrat, to serve as interim Assembly speaker, forcing the embattled Silver to step down as speaker, effective Monday. Time Warner Cable News reporter Nick Reisman has the story.
Updated 01/27/2015 07:30 PM
The democratic meetings behind closed doors have Assembly Republicans wondering when they can get back to work. Just last week, Democratic Assembly Majority Leader Joe Morelle said that Silver's arrest was not a distraction. But as Geoff Redick explains, GOP lawmakers see it differently, and they want to get past this scandal, and get lawmakers back on the clock.
01/27/2015 06:10 PM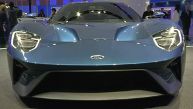 National Auto Show
Our Ed Keiner shares some of his favorite highlights from this year's 2015 North American International Auto Show.
01/23/2015 03:48 PM