The winter weather became part of the heated debate over the Monroe land annexation process by the village of Kiryas Joel. The Village held a public hearing on the project Tuesday night, despite the push by many, including county leaders, to postpone the meeting so many more could attend. Time Warner Cable News reporter Briggette Sayegh has more.
03/03/2015 10:00 PM
Sullivan West Central School District will be getting a little extra security. Time Warner Cable News reporter Candace Dunkley has the details.
03/03/2015 08:00 PM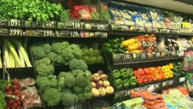 This month's Healthy Living special focuses on food -- from what we put into our bodies and our children's bodies, to reading nutrition labels. Plus, we touch on the latest medical advancements.