Police are warning businesses to be on the lookout for counterfeit money. They say about once a week they receive complaints from businesses that receive fraudulent cash. Time Warner Cable News reporter Candace Dunkley has more on the most recent case.
08:21 PM
Police have found the dog that was beaten in a Poughkeepsie park last year.
04:29 PM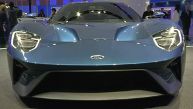 National Auto Show
Our Ed Keiner shares some of his favorite highlights from this year's 2015 North American International Auto Show.
01/23/2015 03:48 PM