A little damp weather didn't stop them from celebrating the beginning of the week with a parade, as students gathered in the school gymnasium to get things moving.
09:12 AM
The budget agreement does not include the DREAM Act, which would help undocumented immigrants afford college by making them eligible for TAP. As Time Warner Cable News reporter Emily DeFeciani explains, it's a big disappointment for advocates, who have been at the State Capitol every day, pushing for the funding.
03/30/2015 09:00 PM
In this March edition of the Cooking at Home half-hour special, chef Dan Eaton shows you how to make seven delicious recipes to keep your kids healthy -- from family meals to brain-power food. Plus, be sure to look for many other great recipes throughout the month.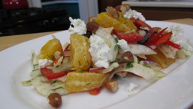 Latest Cooking at Home Recipe
Mediterranean style salad tossed with orange juice, fresh dill and black olives.
09:45 AM