Just as many people were heading to bed Thursday night -- a major fire broke out at an apartment complex in Newburgh. Several units were destroyed at the Northwood Village Apartment despite firefighters' effort to contain it. Jessica Chen has the story.
03:05 PM
The Obama administration could be close to banning one of the most common types of bullets used in sport rifles, sparking a debate between gun enthusiasts and safety advocates. Jim Vasil has the details.
05:36 PM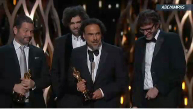 "Birdman" won the big award Sunday night at the Oscars while host Neil Patrick Harris had some fun at the expense of the industry. Film critic Neil Rosen filed the following report.