Reporter Briggette Sayegh shows us now how National days of recognition can be used to learn about diseases that affect so many, and to meet those who have dedicated their lives to helping others.
03/25/2015 09:01 PM
In addition to the 26 suspensions, 36 year-old Gregory Tietje also has two prior DWI convictions, a suspended car registration, and was found driving without a court-ordered interlock device.
09:13 AM
In this March edition of the Cooking at Home half-hour special, chef Dan Eaton shows you how to make seven delicious recipes to keep your kids healthy -- from family meals to brain-power food. Plus, be sure to look for many other great recipes throughout the month.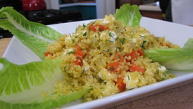 Latest Cooking at Home Recipe
Healthy and tasty light meal or refreshing side dish.
05:00 AM