Police say a driver they had pulled over ran out of the car into traffic on the Thruway, while trying to to resist arrest.
03/04/2015 10:00 PM
Slippery roads caused multiple crashes involving 23 vehicles on Interstate 84. Jackson Wang has more on the pileup.
Updated 03/04/2015 05:30 PM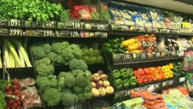 This month's Healthy Living special focuses on food -- from what we put into our bodies and our children's bodies, to reading nutrition labels. Plus, we touch on the latest medical advancements.