The hope is that in exchange for a free short stack, customers will make a donation.
12:40 PM
It's against the law and very dangerous, but some people still do it to try and save time. A new report released this week shows that thousands of drivers illegally pass a school bus in New York state each day. Briggette Sayegh has more from parents on the alarming study.
03/02/2015 09:36 PM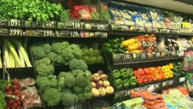 This month's Healthy Living special focuses on food -- from what we put into our bodies and our children's bodies, to reading nutrition labels. Plus, we touch on the latest medical advancements.