A family in Dutchess County is in still in shock after a fire destroyed their livelihood along with more than 90 animals. Time Warner Cable News reporter Michael Howard has the story on how people they don't even know are stepping in to help out.
02/26/2015 05:10 PM
Governor Cuomo is pushing legislation that would require private colleges to adapt uniform sexual assault polices. Time Warner Cable News reporter Candace Dunkley spoke to a Vassar College representative to see how the measure would be implemented.
02/26/2015 08:30 PM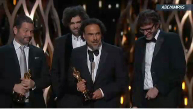 "Birdman" won the big award Sunday night at the Oscars while host Neil Patrick Harris had some fun at the expense of the industry. Film critic Neil Rosen filed the following report.