Thirteen people were arrested for allegedly transporting bags of heroin and cash on Metro-North trains from Harlem and the Bronx to the Hudson Valley.
03/26/2015 07:42 PM
Two people are listed as being unaccounted for as investigators keep looking into Thursday's explosion in the East Village that injured at least 22 people and brought down three buildings.
Updated 05:57 PM
In this March edition of the Cooking at Home half-hour special, chef Dan Eaton shows you how to make seven delicious recipes to keep your kids healthy -- from family meals to brain-power food. Plus, be sure to look for many other great recipes throughout the month.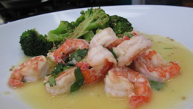 Latest Cooking at Home Recipe
Garlic and ginger sauteed shrimp with orange juice, cilantro, sesame and soy.
05:00 AM