Police have found the dog that was beaten in a Poughkeepsie park last year.
04:29 PM
Leaders in Kingston have been brainstorming ways to improve their relationship with the public- including a forum held Wednesday night, that gave people a chance to speak directly with officials, and maybe even get a haircut. Time Warner Cable News reporter Candace Dunkley explains.
09:29 AM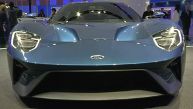 National Auto Show
Our Ed Keiner shares some of his favorite highlights from this year's 2015 North American International Auto Show.
01/23/2015 03:48 PM