A midnight deadline is looming for lawmakers in Albany. They're working into the night in hopes of passing an on-time budget.
Updated 08:30 PM
There is growing anti-Semitic behavior in New York State. This, according to an audit done by the Anti-Defamation League. Time Warner Cable News reporter Jessica Chen talked with the local Jewish Federation and has the story.
06:00 PM
In this March edition of the Cooking at Home half-hour special, chef Dan Eaton shows you how to make seven delicious recipes to keep your kids healthy -- from family meals to brain-power food. Plus, be sure to look for many other great recipes throughout the month.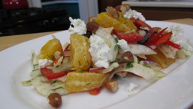 Latest Cooking at Home Recipe
Mediterranean style salad tossed with orange juice, fresh dill and black olives.
09:45 AM