A Dutchess County teacher has become famous after competing and winning thousands on the Wheel of Fortune. Time Warner Cable News reporter Michael Howard has his story.
01/28/2015 09:44 PM
The search continues for jurors in the Cal Harris trial in Schoharie County.
12:15 PM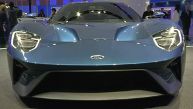 National Auto Show
Our Ed Keiner shares some of his favorite highlights from this year's 2015 North American International Auto Show.
01/23/2015 03:48 PM