Sheldon Silver has submitted his resignation letter for his Assembly Speaker position.
04:46 PM
His 21 year reign as Assembly Speaker will come to an end Monday. Assembly Speaker Sheldon Silver, amid federal corruption charges, will be stepping down from his position effective 11:59 p.m. Monday. While that investigation moves forward, Nick Reisman has more on another federal probe in Albany's high ranking leadership.
02:27 PM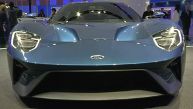 National Auto Show
Our Ed Keiner shares some of his favorite highlights from this year's 2015 North American International Auto Show.
01/23/2015 02:48 PM