Several Hudson Valley communities have begun declaring snow emergencies.
Updated 08:15 PM
State Health Officials have confirmed a case of the measles in Dutchess County. Time Warner Cable News reporter Michael Howard has the details.
01/31/2015 09:57 PM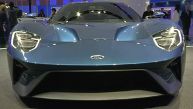 National Auto Show
Our Ed Keiner shares some of his favorite highlights from this year's 2015 North American International Auto Show.
01/23/2015 03:48 PM