The snow is falling in the Capital Region but -- it's not at all what we expected. Barry Wygel reports.
Updated 12:00 PM
New York State Assembly members met late Monday to determine the next step after Sheldon Silver's arrest. They asked him to step down.
01/26/2015 09:18 PM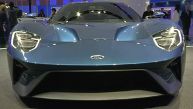 National Auto Show
Our Ed Keiner shares some of his favorite highlights from this year's 2015 North American International Auto Show.
01/23/2015 03:48 PM