New York State Assembly members met late Monday to determine the next step after Sheldon Silver's arrest. They asked him to step down.
01/26/2015 09:18 PM
While many people are happy to not have significant snowfall in Central New York, the weather in other cities is still having an impact locally. Many people flying to or through major cities along the east coast had their flights cancelled. Iris St. Meran caught up with some of them as they tried to find other ways to get to their destination.
01/26/2015 12:25 PM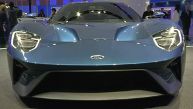 National Auto Show
Our Ed Keiner shares some of his favorite highlights from this year's 2015 North American International Auto Show.
01/23/2015 03:48 PM
Cannot serve request to /content/news/nys/central-ny.html on this server
---
ApacheSling/2.2 (Day-Servlet-Engine/4.1.52, Java HotSpot(TM) 64-Bit Server VM 1.7.0_45, Linux 2.6.32-431.11.2.el6.x86_64 amd64)