The Times Union Center is alive this weekend with fans of the NCAA Women's East Regionals. Emily DeFeciani has more from the most dedicated who braved frigid temperatures and even snow to see their teams play.
01:20 PM
It's been a year since North Adams Regional Hospital shut its doors. Saturday afternoon, members of the North County Cares Coalition will rally to restore service at that hospital. Jim Vasil has the story.
01:25 PM
In this March edition of the Cooking at Home half-hour special, chef Dan Eaton shows you how to make seven delicious recipes to keep your kids healthy -- from family meals to brain-power food. Plus, be sure to look for many other great recipes throughout the month.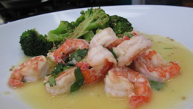 Latest Cooking at Home Recipe
Garlic and ginger sauteed shrimp with orange juice, cilantro, sesame and soy.
03/27/2015 05:00 AM