With snow on the way, a reminder from the Albany County Sheriff's Office: Now is a good time to sign up for emergency alerts with the recently upgraded emergency Mass Notification System.
01/25/2015 06:06 PM
Local firefighters faced a different set of elements Sunday, practicing techniques in an ice rescue workshop. Our Emily DeFeciani was there and has more.
01/25/2015 04:44 PM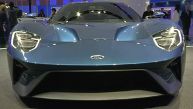 National Auto Show
Our Ed Keiner shares some of his favorite highlights from this year's 2015 North American International Auto Show.
01/23/2015 02:48 PM