Say Yes to Education says it's making progress in the Buffalo Public Schools. Time Warner Cable News reporter Kaitlyn Lionti tells us about the announcement Wednesday regarding the class of 2014, and what the program still has in store for the district.
04/01/2015 04:11 PM
State lawmakers left Albany for the week after working late into the early morning hours to pass a budget. As Nick Reisman reports that technically made the budget late.
04/01/2015 05:30 PM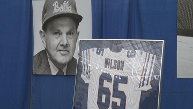 Wednesday marked one year since the death of the Buffalo Bills' first owner, Ralph C. Wilson Junior. Time Warner Cable News reporter Meg Rossman says Wilson's legacy continues to shape the team's future.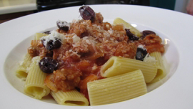 Latest Cooking at Home Recipes
Pasta with a sausage, fennel and black olive tomato sauce.
04/01/2015 05:00 AM
Heather Briccetti, President of the NYS Business Council, joined us with her reaction to the final spending plan.
04/01/2015 08:34 PM
Assemblywoman Carrie Woerner voted down the ELFA which included education reform. She joined us to explain.
04/01/2015 08:30 PM
While shore excursions are designed to be liberating, one of the most fascinating excursions that you will ever find off a cruise ship is actually confining. Time Warner Cable News' Valarie D'Elia filed this Travel report.
05:30 AM
In this edition of "Driver's Ed," we're in the kitchen, not in the garage. Our Ed Keiner shows us how to make the perfect taco right on your diesel engine.
04/01/2015 10:03 AM

Follow Us
@TWCNewsBuffalo