Raymond Gonzalez was arraigned Tuesday in connection with the death of 13-month-old James Velazquez. According to the prosecution, the case against Gonzalez came together recently and was brought to a grand jury.
04:35 PM
An Erie County judge makes a request of the family of both the suspect and victim at a homicide arraignment Tuesday morning. Raymond Smith is charged with second-degree murder in the death of Shaquilla Coston. Time Warner Cable News Reporter Sarah Blazonis was in court.
11:07 AM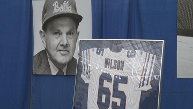 Wednesday marked one year since the death of the Buffalo Bills' first owner, Ralph C. Wilson Junior. Time Warner Cable News reporter Meg Rossman says Wilson's legacy continues to shape the team's future.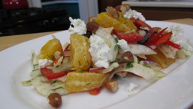 Latest Cooking at Home Recipes
Mediterranean style salad tossed with orange juice, fresh dill and black olives.
09:45 AM
Governor Andrew Cuomo issued the ban for state employees, effective immediately, following the signing last week of a controversial religious freedom law by Indiana's governor. Critics say that law could allow businesses to discriminate based on a person's race or sexual orientation.
07:22 PM
New Yorkers voted on several propositions during the 2014 election, one that would allow bills to be given to lawmakers electronically. Five months after being approved, and there's no sign of that yet at the State Capitol. Jon Dougherty has more.
04:15 PM
There are nine universities across New York with chapters of the national Food Recovery Network.
03/30/2015 12:07 PM
Steamboating has inspired songs as well as everyday expressions - from 'getting off on the right foot' to 'stateroom,' to 'blowing her stack.'
03/30/2015 11:54 AM

Follow Us
@TWCNewsBuffalo