While there's still no bill specifically detailing education spending, including how much money each district can expect, some information has been released by lawmakers. Time Warner Cable News reporter Ryan Whalen has more.
03/30/2015 10:14 PM
The Grand Island Central School District honored several teachers Monday who helped a student who collapsed while running on a track. As Time Warner Cable News Reporter Alex Haight explains, another family's tragedy also played a part in saving the girl's life.
03/30/2015 11:37 PM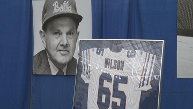 Wednesday marked one year since the death of the Buffalo Bills' first owner, Ralph C. Wilson Junior. Time Warner Cable News reporter Meg Rossman says Wilson's legacy continues to shape the team's future.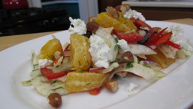 Latest Cooking at Home Recipes
Mediterranean style salad tossed with orange juice, fresh dill and black olives.
09:45 AM
The property tax circuit breaker didn't make the budget but a tax break for yacht owners did. The Fiscal Policy Institute's Ron Deutsch and Robert McKeon of TREND joined us to discuss.
03/30/2015 08:43 PM
Tim Kremer of the NYS School Boards Association and Bob Lowry from the NYS Council of School Superintendents joined us to discuss education in the state budget.
03/30/2015 08:39 PM
There are nine universities across New York with chapters of the national Food Recovery Network.
03/30/2015 12:07 PM
Steamboating has inspired songs as well as everyday expressions - from 'getting off on the right foot' to 'stateroom,' to 'blowing her stack.'
03/30/2015 11:54 AM

Follow Us
@TWCNewsBuffalo