State legislators working as private practice attorneys will now be required to disclose their most profitable legal clients. Geoff Redick reports.
06:30 PM
We're learning more about the state budget deal announced late Sunday night. As Nick Reisman explains, lawmakers have agreed to a spending plan that includes adopting new ethics laws, increases school aid, and makes changes to the much debated teacher evaluation process.
05:15 PM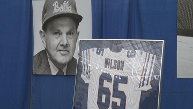 Wednesday marked one year since the death of the Buffalo Bills' first owner, Ralph C. Wilson Junior. Time Warner Cable News reporter Meg Rossman says Wilson's legacy continues to shape the team's future.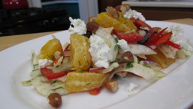 Latest Cooking at Home Recipes
Mediterranean style salad tossed with orange juice, fresh dill and black olives.
09:45 AM
Updated 03/26/2015 09:40 PM
Tim Kremer of the NYS School Boards Association and Bob Lowry from the NYS Council of School Superintendents joined us to discuss education in the state budget.
08:39 PM
The state budget agreement does not include the DREAM Act. Queens Senator Jose Peralta joined us to discuss.
08:35 PM
Steamboating has inspired songs as well as everyday expressions - from 'getting off on the right foot' to 'stateroom,' to 'blowing her stack.'
11:54 AM
It's officially spring -- time to start thinking about this year's outdoor projects, some may require more planning than others. Solomon Syed has more in this edition of Your Home.
03/28/2015 04:56 PM

Follow Us
@TWCNewsBuffalo