Buffalo Police are searching for a man wanted for sexually assaulting a juvenile. Police say 41 year old Lenard Harris has been seen in the area of Genesee and Floss in the past.
11:58 AM
The National Transportation Safety Board has released a preliminary report on last month's plane crash in Virginia that killed three men with ties to Western New York. The NTSB says the plane crashed in heavy fog on March 4th, just two miles from Norfolk International Airport.
10:56 AM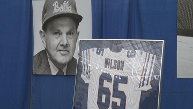 Wednesday marked one year since the death of the Buffalo Bills' first owner, Ralph C. Wilson Junior. Time Warner Cable News reporter Meg Rossman says Wilson's legacy continues to shape the team's future.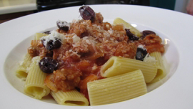 Latest Cooking at Home Recipes
Pasta with a sausage, fennel and black olive tomato sauce.
05:00 AM
After months of fighting over the controversial education reforms Governor Andrew Cuomo had pushed to include in the budget, some of the debates will continue into the spring.
03/31/2015 09:50 PM
Governor Andrew Cuomo issued the ban for state employees, effective immediately, following the signing last week of a controversial religious freedom law by Indiana's governor. While some have praised the move, others call it political grandstanding.
Updated 03/31/2015 09:14 PM
In this Money Matters report, Time Warner Cable News' Tara Lynn Wagner has some tips for those looking to save money on gas by signing up for a credit card that offers rewards for gas purchases.
03/31/2015 04:30 AM
There are nine universities across New York with chapters of the national Food Recovery Network.
03/30/2015 11:07 AM

Follow Us
@TWCNewsBuffalo