Governor Andrew Cuomo issued the ban for state employees, effective immediately, following the signing last week of a controversial religious freedom law by Indiana's governor. While some have praised the move, others call it political grandstanding.
Updated 10:14 PM
New York is getting involved in the religious freedom debate at the state level. Time Warner Cable News reporter Ryan Whalen has reaction.
10:04 PM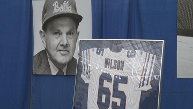 Wednesday marked one year since the death of the Buffalo Bills' first owner, Ralph C. Wilson Junior. Time Warner Cable News reporter Meg Rossman says Wilson's legacy continues to shape the team's future.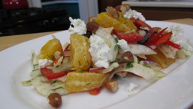 Latest Cooking at Home Recipes
Mediterranean style salad tossed with orange juice, fresh dill and black olives.
09:45 AM
Good government groups were looking for much more in the shape of ethics reform. Common Cause NY's Susan Lerner joined us to discuss.
09:35 PM
Assemblywoman Pat Fahy joined us to discuss the latest debates over education in the state budget.
09:31 PM
There are nine universities across New York with chapters of the national Food Recovery Network.
03/30/2015 12:07 PM
Steamboating has inspired songs as well as everyday expressions - from 'getting off on the right foot' to 'stateroom,' to 'blowing her stack.'
03/30/2015 11:54 AM

Follow Us
@TWCNewsBuffalo