The game between the two teams with the worst records in the NHL is crucial for the top of the draft order. A last-place finish would secure a top 2 pick and one of prized prospects Connor McDavid or Jack Eichel.
07:45 PM
A radio analyst with the Arizona Coyotes, who are in town to play the Sabres tonight, is in police custody at ECMC after a fight broke out at the casino in downtown Buffalo overnight.
12:00 PM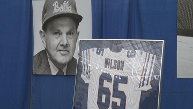 Wednesday marked one year since the death of the Buffalo Bills' first owner, Ralph C. Wilson Junior. Time Warner Cable News reporter Meg Rossman says Wilson's legacy continues to shape the team's future.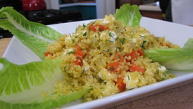 Latest Cooking at Home Recipes
Healthy and tasty light meal or refreshing side dish.
05:00 AM
Updated 03/25/2015 08:00 PM
Reports on the latest budget negotiations plus interviews with Senator John Flanagan, Assemblywoman Cathy Nolan, a music industry panel and the Insiders.
01:20 PM
New data released Thursday by the U.S. Census does not bode well for New York, which continues to lag behind other states when it comes to population growth, though immigrants continue to drive growth here in the city.
Updated 06:20 AM
The Mississippi may be well worth reading about, but it is also worth visiting. In this Travel with Val report, Time Warner Cable News' Valarie D'Elia rolls on the river on a steamboat.
05:30 AM
Shadow Hill Maple Syrup in Ontario, N.Y. is a great way to begin your Maple Weekend!
05:00 AM
Follow Us
@TWCNewsBuffalo