It's by no means a new sport, but compared to its downhill counterpart, cross country skiing is often overlooked. As Time Warner Cable News continues the effort to encourage children to be active during "Fit Kids February," reporter Matt Hunter introduces us to a winter activity the whole family can enjoy.
10:53 AM
The FCC voted 5-0 on new rules that would require major wireless carriers to improves accuracy for those dialing 9-1-1 from a cellular phone.
01/29/2015 08:00 PM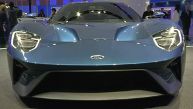 National Auto Show
Our Ed Keiner shares some of his favorite highlights from this year's 2015 North American International Auto Show.
01/23/2015 03:48 PM