Sheldon Silver has submitted his resignation letter for his Assembly speaker position.
Updated 01/30/2015 05:46 PM
He's played the leading role in three decades of success at the Clemens Center in Elmira. Now in his final act, executive director Tom Wiedemann will retire from the center at the end of the year. Matt Jarchow looks at his time at the Clemens Center and the legacy he'll leave behind.
01/30/2015 09:00 PM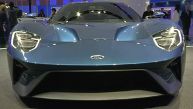 National Auto Show
Our Ed Keiner shares some of his favorite highlights from this year's 2015 North American International Auto Show.
01/23/2015 03:48 PM