The Broome County Industrial Development Agency and the National Development Council are teaming up to spur small business growth and boost the local economy. The IDA and NDC announced the 'Grow Broome Fund' Thursday. Our Emily Lorsch tells us more about this program and how it can help the community.
03:57 PM
Jurors in the trial of a former Cornell wrestler accused of rape have returned with a partial verdict.
12:23 PM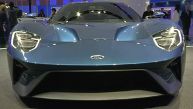 National Auto Show
Our Ed Keiner shares some of his favorite highlights from this year's 2015 North American International Auto Show.
01/23/2015 03:48 PM