The Cal Harris' murder trial resumed Monday morning.
08:48 AM
Terry Kellogg, Mayor Rich David's selection to replace the outgoing commissioner, lives in the village of Chenango, a violation of the city's residency requirement.
03:14 PM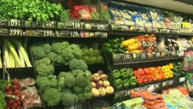 This month's Healthy Living special focuses on food -- from what we put into our bodies and our children's bodies, to reading nutrition labels. Plus, we touch on the latest medical advancements.