A local non-profit is going national to make a bigger impact locally. Monday Chemung ARC announced a rebranding as the Arc of Chemung. Reporter Matt Jarchow explains what it means for the agency and the community.
09:30 PM
March is here, but it still feels like the dead of winter. With the winter conditions, comes significant problems. As Brent Fox reports, water main breaks can be among the worst.
08:30 PM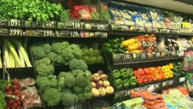 This month's Healthy Living special focuses on food -- from what we put into our bodies and our children's bodies, to reading nutrition labels. Plus, we touch on the latest medical advancements.