A Tioga County man found guilty of first-degree manslaughter was sentenced to 17 years in state prison Friday. 63-year-old Douglas Every stabbed and killed Milton Jump in October of 2013. Emily Lorsch talked to Jump's family, who said the sentencing, won't fill the huge void in their heart.
01/30/2015 06:19 PM
Sheldon Silver has submitted his resignation letter for his Assembly speaker position.
Updated 01/30/2015 05:46 PM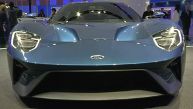 National Auto Show
Our Ed Keiner shares some of his favorite highlights from this year's 2015 North American International Auto Show.
01/23/2015 03:48 PM