Company officials announced Tuesday that core sales exceeded $10 billion for the first time in 2014.
12:02 PM
A jury is deliberating Peter Mesko's case in Ithaca.
03:35 PM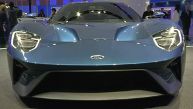 National Auto Show
Our Ed Keiner shares some of his favorite highlights from this year's 2015 North American International Auto Show.
01/23/2015 03:48 PM