A deal has been reached for Joe Morelle, a Rochester-area Democrat, to serve as interim Assembly speaker, forcing the embattled Silver to step down as speaker, effective Monday. Time Warner Cable News reporter Nick Reisman has the story.
Updated 01/27/2015 07:30 PM
For more than two decades, the former Deposit Elementary school has sat vacant. But recently, new owners purchased the building and decided it must come down. Alexa Green explains what the future holds for the historic site.
01/27/2015 05:29 PM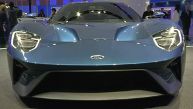 National Auto Show
Our Ed Keiner shares some of his favorite highlights from this year's 2015 North American International Auto Show.
01/23/2015 03:48 PM