They're heavy, they're sharp, and they can be deadly. With this cold weather, icicles are forming on rooftops all over -- damaging property and hurting people. But Emily Lorsch spoke with one expert who says he has the answer.
02/28/2015 05:50 PM
The state's Gaming Facility Location Board released a report Friday outlining the reasoning that went into the decisions in the casino licensing process, but not everyone agrees with the findings. Emily Lorsch talked with Tioga Downs Owner Jeff Gural about the report.
02/27/2015 06:21 PM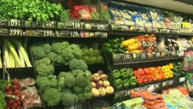 This month's Healthy Living special focuses on food -- from what we put into our bodies and our children's bodies, to reading nutrition labels. Plus, we touch on the latest medical advancements.