A Binghamton police officer is fighting for her job after she was charged with misconduct and placed on administrative leave without pay. On Tuesday, Officer Kristi Sager answered to those charges at an administrative hearing. Alexa Green was there and has the details.
03/03/2015 08:15 PM
Originally firefighters said four boats and a camper were inside the building, although troopers have referred to it as a vacant warehouse.
11:53 AM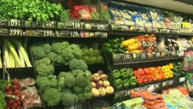 This month's Healthy Living special focuses on food -- from what we put into our bodies and our children's bodies, to reading nutrition labels. Plus, we touch on the latest medical advancements.
Latest Cooking at Home Recipes
Stuffed peppers with chorizo sausage instead of the typical ground beef.
03/03/2015 03:00 PM