Broome County Executive Debbie Preston presented her State of the County address Thursday in Binghamton.
02/26/2015 04:30 PM
People know heavy snow can cause roofs to collapse, but the frigid temperatures can have their own damaging effects as well. Foundations can crack and shift, and doors can heave up. Iris St. Meran reports.
02:01 PM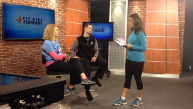 This week, TWC News' JoDee Kenney spoke with Michael Scidmore, a program coordinator for the YMCA, for tips on what parents can do to get kids to exercise and stay active. Jodee also spoke to Krista Spohr, who teaches yoga at 365 FIT, about how yoga can benefit your kids both physically and mentally.