The Orange are carrying some momentum after Tuesday's upset win over Notre Dame.
11:47 AM
For a couple of years now, there's been some concern in the Corning area about potential soil contamination that triggered testing in surrounding areas. Now, the results are in. Reporter Matt Jarchow explains.
02/27/2015 05:20 PM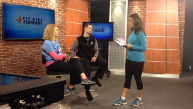 This week, TWC News' JoDee Kenney spoke with Michael Scidmore, a program coordinator for the YMCA, for tips on what parents can do to get kids to exercise and stay active. Jodee also spoke to Krista Spohr, who teaches yoga at 365 FIT, about how yoga can benefit your kids both physically and mentally.