Just when many thought the fight over hydraulic fracturing was over, some Southern Tier officials have refueled the debate. In December, Governor Andrew Cuomo issued a statewide ban on fracking. But as Alexa Green explains, one Broome County town is trying to find a way around it.
03/04/2015 05:30 PM
You don't typically hear the words bicycle and plow in the same sentence. But for one Cortland man it's a way of life. In a story you'll only see on Time Warner Cable News, Iris St. Meran introduces us to Harry Bridger, the man who built his own pedal-powered snow plow.
03/04/2015 07:00 PM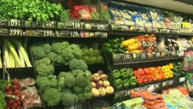 This month's Healthy Living special focuses on food -- from what we put into our bodies and our children's bodies, to reading nutrition labels. Plus, we touch on the latest medical advancements.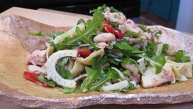 Latest Cooking at Home Recipes
Canned tuna and white bean salad with artichokes, red peppers and fennel.
03/04/2015 01:38 PM