In all, 581 workers were notified that their employment with St. James will end in 90 days. However, about 400 of them are anticipated to be hired back as St. James transitions to what they're calling their "New Vision" on May 1.
10:03 AM
WATCH: Raw video of Sheldon Silver leaving the state Capitol after Assembly Democrats announce Joe Morelle will be interim Speaker.
01/27/2015 10:20 PM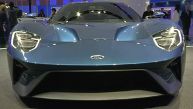 National Auto Show
Our Ed Keiner shares some of his favorite highlights from this year's 2015 North American International Auto Show.
01/23/2015 03:48 PM