David says $1.4 million from the city's capital bonding program will be allocated for the renovations.
11:53 AM
State police are looking for the gunman in an armed robbery at a McDonald's in Owego that happened around 1:30 a.m. Tuesday at the resturant on Hickories Park Road.
11:48 AM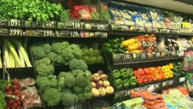 This month's Healthy Living special focuses on food -- from what we put into our bodies and our children's bodies, to reading nutrition labels. Plus, we touch on the latest medical advancements.