This week's blizzard was forecasted by some to be one of the worst downstate has ever seen but the people expecting a record amount of snow won't be on their own. As Emily Lorsch shares, many areas across the region are sending resources to help keep communities safe.
01/26/2015 11:19 PM
New York State Assembly members met late Monday to determine the next step after Sheldon Silver's arrest. They asked him to step down.
01/26/2015 09:18 PM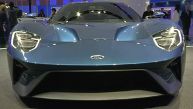 National Auto Show
Our Ed Keiner shares some of his favorite highlights from this year's 2015 North American International Auto Show.
01/23/2015 03:48 PM