It's back to business as usual in Albany as lawmakers attempt to move past Assembly Speaker Sheldon Silver's corruption scandal, as more information is coming out about possible replacements for Silver. Nick Reisman has more from the state Capitol.
12:20 PM
For more than a year, officials at St James Mercy Hospital have been developing a new vision for healthcare in Hornell. The transition to that vision is beginning with layoffs and a cut to inpatient services. Reporter Matt Jarchow has the details.
10:03 AM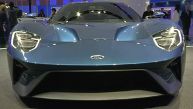 National Auto Show
Our Ed Keiner shares some of his favorite highlights from this year's 2015 North American International Auto Show.
01/23/2015 03:48 PM