Officials arrived at the scene on West Whitcomb Hill at 1 p.m.
03/01/2015 01:45 PM
They're heavy, they're sharp, and they can be deadly. With this cold weather, icicles are forming on rooftops all over -- damaging property and hurting people. But Emily Lorsch spoke with one expert who says he has the answer.
02/28/2015 05:50 PM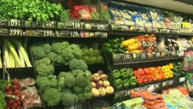 This month's Healthy Living special focuses on food -- from what we put into our bodies and our children's bodies, to reading nutrition labels. Plus, we touch on the latest medical advancements.