A forensic investigator is back on the stand in the Cal Harris murder trial. Harris is accused of killing his wife in 2001. Tamara Lindstrom has more.
03/05/2015 04:30 PM
The NCAA released its long-awaited report at noon Friday into infractions committed by the basketball program. The team first self-report violations in 2007.
09:24 AM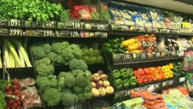 This month's Healthy Living special focuses on food -- from what we put into our bodies and our children's bodies, to reading nutrition labels. Plus, we touch on the latest medical advancements.
Latest Cooking at Home Recipes
Simple rice pudding with bananas Foster and whipped cream.
05:00 AM