The FCC voted 5-0 on new rules that would require major wireless carriers to improves accuracy for those dialing 9-1-1 from a cellular phone.
01/29/2015 08:00 PM
Another day of jury selection in the Cal Harris murder trial, but very little progress to report. Harris, a Tioga County businessman, is accused of killing his wife more than 13 years ago. Tamara Lindstrom has more.
01/29/2015 12:15 PM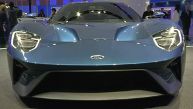 National Auto Show
Our Ed Keiner shares some of his favorite highlights from this year's 2015 North American International Auto Show.
01/23/2015 03:48 PM