It's been banned in New York since 1976, but Wednesday officials announced New York would become the last state to allow the storage of liquefied natural gas. Matt Jarchow explains why business leaders are cheering the move and why environmental groups are expressing concern.
01/29/2015 05:55 PM
A controversial proposal that was passed by the Broome County legislature last month has been vetoed by County Executive Debbie Preston. Alexa Green explains why the legislation was struck down.
01/29/2015 04:57 PM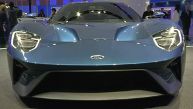 National Auto Show
Our Ed Keiner shares some of his favorite highlights from this year's 2015 North American International Auto Show.
01/23/2015 03:48 PM