Local maple producers across the Southern Tier are set to start making syrup this week. Reporter Mark Goshgarian shares why the frigid weather conditions could create a sticky situation for the upcoming season.
03/01/2015 05:32 PM
Purim begins Wednesday evening and many families and organizations throughout the world are hard at work preparing for annual traditions. Emily Lorsch shares why many consider this one of the most joyous holidays.
03/01/2015 07:00 PM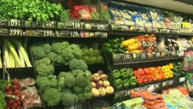 This month's Healthy Living special focuses on food -- from what we put into our bodies and our children's bodies, to reading nutrition labels. Plus, we touch on the latest medical advancements.