For more than a year, officials at St James Mercy Hospital have been developing a new vision for healthcare in Hornell. The transition to that vision is beginning with layoffs and a cut to inpatient services. Reporter Matt Jarchow has the details.
10:03 AM
Jury selection in the Cal Harris murder trial continues in Schoharie County today.
Updated 01/28/2015 12:00 AM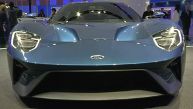 National Auto Show
Our Ed Keiner shares some of his favorite highlights from this year's 2015 North American International Auto Show.
01/23/2015 03:48 PM