Company officials announced Tuesday that core sales exceeded $10 billion for the first time in 2014.
12:02 PM
There are many places in the Greater Binghamton area to get a delicious meal. But Little Venice, one of the oldest Italian eateries in Binghamton, has much more to offer than just great food. In this edition of Your Hometown, Emily Lorsch has more about this historic site.
02:05 PM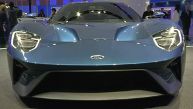 National Auto Show
Our Ed Keiner shares some of his favorite highlights from this year's 2015 North American International Auto Show.
01/23/2015 03:48 PM