Drama in the courtroom for the Cal Harris murder trial, Tuesday with very little movement in the case. Harris is accused of killing his wife in 2001. Tamara Lindstrom has the latest.
05:00 PM
Immigration advocates from around the state rallied in Albany Tuesday, as the issue continues to put federal officials at odds. Madeleine Rivera has the story.
07:04 PM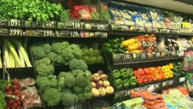 This month's Healthy Living special focuses on food -- from what we put into our bodies and our children's bodies, to reading nutrition labels. Plus, we touch on the latest medical advancements.