New York State Assembly members met late Monday to determine the next step after Sheldon Silver's arrest. They asked him to step down.
01/26/2015 09:18 PM
The winter storm isn't supposed to bring much snow to our area, but it has already caused delays on the roadways. By Monday afternoon, some flights at the Greater Binghamton Airport were already cancelled. Alexa Green caught up with travelers to find out how their plans were impacted.
01/26/2015 06:50 PM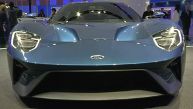 National Auto Show
Our Ed Keiner shares some of his favorite highlights from this year's 2015 North American International Auto Show.
01/23/2015 03:48 PM