Widespread winter weather is on the way across New York State.
12:38 PM
As we continue to journey through Fit Kids February, we're taking a look at youngsters who are learning what many call the foundation of all forms of dance. Time Warner Cable News reporter Rebecca Vogt takes us beyond the ballet barre.
01/30/2015 12:29 PM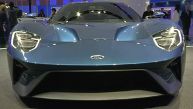 National Auto Show
Our Ed Keiner shares some of his favorite highlights from this year's 2015 North American International Auto Show.
01/23/2015 03:48 PM