A Binghamton police officer is fighting for her job after she was charged with misconduct and placed on administrative leave without pay. On Tuesday, Officer Kristi Sager answered to those charges at an administrative hearing. Alexa Green was there and has the details.
03/03/2015 08:15 PM
It's crunch time for SUNY institutions like Binghamton University and SUNY Broome. Chancellor Nancy Zimpher asked for $3 billion from the state during the next five years. But some schools are worried that cash will never appear. Mike Toper has more.
03/03/2015 11:30 PM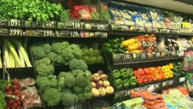 This month's Healthy Living special focuses on food -- from what we put into our bodies and our children's bodies, to reading nutrition labels. Plus, we touch on the latest medical advancements.