Another week of testimony in the Cal Harris trial ends with a focus on photos of alleged blood spattered evidence. Harris is accused of killing his wife Michele in 2001. Tamara Lindstrom has the details.
05:00 PM
Another lawsuit has been filed against a Southern Tier politician, this one targeting the Broome County Executive. A former sheriff's deputy is suing Debbie Preston for harassment. Alexa Green explains why Dawn Shafer says Preston needs to be held accountable.
02/25/2015 06:30 PM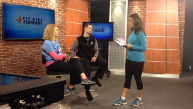 This week, TWC News' JoDee Kenney spoke with Michael Scidmore, a program coordinator for the YMCA, for tips on what parents can do to get kids to exercise and stay active. Jodee also spoke to Krista Spohr, who teaches yoga at 365 FIT, about how yoga can benefit your kids both physically and mentally.