Cornell University is investigating an incident with one of its fraternities.
03:30 PM
After some Elmira City School District athletes were found drinking at an underage party, the school board is left explaining their disciplinary actions, according to their code of conduct.
01:41 PM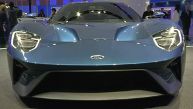 National Auto Show
Our Ed Keiner shares some of his favorite highlights from this year's 2015 North American International Auto Show.
01/23/2015 03:48 PM