It's a high stakes competition with half a billion dollars on the line, that is supposed to bring out the best of each region. Earlier this month, Governor Cuomo announced he wanted regional economic development councils to try and win that cash. As Alexa Green reports, Southern Tier leaders are already looking at what they have to do to secure the money.
01/28/2015 06:11 PM
For more than a year, officials at St James Mercy Hospital have been developing a new vision for healthcare in Hornell. The transition to that vision is beginning with layoffs and a cut to inpatient services. Reporter Matt Jarchow has the details.
01/28/2015 10:03 AM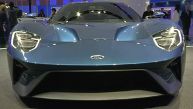 National Auto Show
Our Ed Keiner shares some of his favorite highlights from this year's 2015 North American International Auto Show.
01/23/2015 03:48 PM