The state's Gaming Facility Location Board released a report Friday outlining the reasoning that went into the decisions in the casino licensing process, but not everyone agrees with the findings. Emily Lorsch talked with Tioga Downs Owner Jeff Gural about the report.
02/27/2015 06:21 PM
The cold didn't bother more than 100 people who came out for the second annual Freeze Out 5k to end homelessness. The run benefits the programs and services provided by the Binghamton Rescue Mission.
02/28/2015 02:36 PM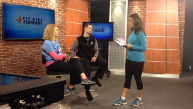 This week, TWC News' JoDee Kenney spoke with Michael Scidmore, a program coordinator for the YMCA, for tips on what parents can do to get kids to exercise and stay active. Jodee also spoke to Krista Spohr, who teaches yoga at 365 FIT, about how yoga can benefit your kids both physically and mentally.