The search continues for jurors in the Cal Harris trial in Schoharie County.
12:15 PM
The sheriff's department started searching for the man Wednesday night, after being called to Highbridge Road in DeRuyter around 8 p.m. where a woman was being held against her will.
Updated 10:15 AM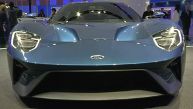 National Auto Show
Our Ed Keiner shares some of his favorite highlights from this year's 2015 North American International Auto Show.
01/23/2015 03:48 PM