For some it's hard to stay on a treadmill or get through a typical gym workout. But for many, yoga is much different. And now Binghamton is a place where people from all over the country are coming to relax, feel free, and maybe even walk away with a medal. Emily Lorsch shares why so many are in love with yoga and how Binghamton is becoming a center for its practice.
01/31/2015 05:13 PM
The Division of Homeland Security and Emergency Services has released a series of safety tips as temperatures drop below zero across the region.
01/31/2015 02:39 PM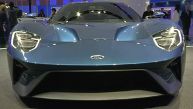 National Auto Show
Our Ed Keiner shares some of his favorite highlights from this year's 2015 North American International Auto Show.
01/23/2015 03:48 PM