The snow is falling in the Capital Region but -- it's not at all what we expected. Barry Wygel reports.
Updated 12:00 PM
SU fans spent Monday evening cheering on the men's basketball team after witnessing the Orange lose to Miami at home just 48 hours before. And while supporters were hoping for a different outcome at Chapel Hill, SU wasn't able to claim a victory over the Tar Heels. Elizabeth Jeneault has reaction from fans, who aren't writing the team off just yet.
01/26/2015 11:18 PM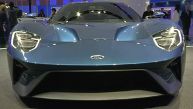 National Auto Show
Our Ed Keiner shares some of his favorite highlights from this year's 2015 North American International Auto Show.
01/23/2015 03:48 PM