The Elmira man convicted in the double murder of a Chautauqua County couple will spend decades behind bars. As Time Warner Cable News reporter Mark Goshgarian tells us, Davide Coggins apologized to the victim's family before he was sentenced.
Updated 06:02 PM
Many people are welcoming March with open arms after February's record lows and heavy snowfall. But warmer temperatures may not be good news for everyone. Iris St. Meran has some tips on how to prevent your home from flooding.
06:00 PM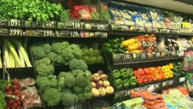 This month's Healthy Living special focuses on food -- from what we put into our bodies and our children's bodies, to reading nutrition labels. Plus, we touch on the latest medical advancements.