Another day of jury selection in the Cal Harris murder trial, but very little progress to report. Harris, a Tioga County businessman, is accused of killing his wife more than 13 years ago. Tamara Lindstrom has more.
01/29/2015 12:15 PM
It's been banned in New York since 1976, but Wednesday officials announced New York would become the last state to allow the storage of liquefied natural gas. Matt Jarchow explains why business leaders are cheering the move and why environmental groups are expressing concern.
01/29/2015 05:55 PM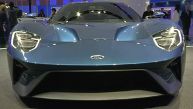 National Auto Show
Our Ed Keiner shares some of his favorite highlights from this year's 2015 North American International Auto Show.
01/23/2015 03:48 PM