It was scary scene at the Trumansburg Central School District Wednesday morning. The body of a deer was left in the student parking lot and attached to it was a note that raised a few warning flags. Brent Fox has more on what the school and the local police are doing about it.
03/05/2015 09:00 PM
Binghamton will be painted green Saturday with music, dancing and tons of fun during the 48th annual Saint Patrick's Day Parade. Emily Lorsch has more on what people can look forward to on Saturday.
03/05/2015 06:35 PM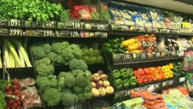 This month's Healthy Living special focuses on food -- from what we put into our bodies and our children's bodies, to reading nutrition labels. Plus, we touch on the latest medical advancements.
Latest Cooking at Home Recipes
Simple rice pudding with bananas Foster and whipped cream.
05:00 AM