The University of North Carolina Board of Governors voted Friday to disband the think-tank created to help launch John Edwards' presidential campaign and run by a law professor and former Democratic candidate for Congress from Colorado.
03:25 PM
The snow that melted Thursday has frozen over, leaving black ice all over Triangle-area roadways. The slippery conditions are likely to blame for a number of accidents Friday morning.
07:25 AM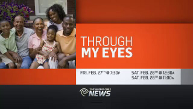 SPECIAL REPORT
In this series, "Though My Eyes," Time Warner Cable News reporters speak with African-American youth and adults about the issues black males face and how they feel in today's America. How has the country progressed since the Civil Rights marches of the 1960s and how do African-American men feel they are perceived in today's world? Watch it Friday at 7:30 p.m.