More than 200,000 power outages were reported across the state Thursday following the winter storm. Crews worked through the day and night to restore power to most, but hard-hit areas of Wake and Durham counties, specifically rural areas, are still without electricity.
07:17 AM
Tow truck operators worked around the clock since Wednesday night to help stranded drivers stuck in the snow, slush and ice.
02/26/2015 08:28 PM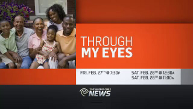 SPECIAL REPORT
In this series, "Though My Eyes," Time Warner Cable News reporters speak with African-American youth and adults about the issues black males face and how they feel in today's America. How has the country progressed since the Civil Rights marches of the 1960s and how do African-American men feel they are perceived in today's world? Watch it Friday at 7:30 p.m.