Durham Police Chief Jose Lopez presented city leaders with a five-year staffing proposal on Friday.
02/27/2015 05:52 PM
Icy conditions left thousands of North Carolinians in the dark this week. More than 200,000 power outages were reported across the state at one point on Thursday.
02/27/2015 04:47 PM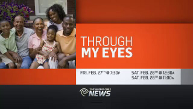 SPECIAL REPORT
In this series, "Through My Eyes," Time Warner Cable News reporters speak with African-American youth and adults about the issues black males face and how they feel in today's America. How has the country progressed since the Civil Rights marches of the 1960s and how do African-American men feel they are perceived in today's world? Watch it again Saturday at 12:30 a.m and 11 a.m.