The families of Deah Barakat and Yusor and Razan Abu-Salha are hoping to raise $500,000. The proceeds from the Our Three Winners Trust, will go towards funding education, dental relief and service projects helping those in need.
08:16 AM
Proceeds from the event will go to benefit the local Children's Miracle Network Hospital, Duke Children's Hospital and Health Center.
10:17 AM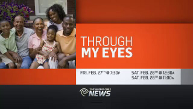 SPECIAL REPORT
In this series, "Though My Eyes," Time Warner Cable News reporters speak with African-American youth and adults about the issues black males face and how they feel in today's America. How has the country progressed since the Civil Rights marches of the 1960s and how do African-American men feel they are perceived in today's world? Watch it Friday at 7:30 p.m.