Heavy, wet snow fell on much of North Carolina Wednesday night through early Thursday morning. However, parts of the state saw more sleet or just rain resulting in lower than expected accumulations.
10:19 AM
Gov. Pat McCrory updated the public on the latest conditions Thursday afternoon. He said one of the biggest issue they're battling is power outages.
12:58 PM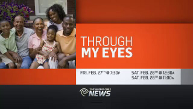 SPECIAL REPORT
In this series, "Though My Eyes," Time Warner Cable News reporters speak with African-American youth and adults about the issues black males face and how they feel in today's America. How has the country progressed since the Civil Rights marches of the 1960s and how do African-American men feel they are perceived in today's world? Watch it Friday at 7:30 p.m.