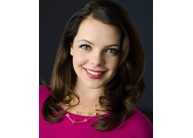 Jenna is the reporter for Spectrum News in our Charlotte newsroom.
A native of Virginia Beach, Va., she is thrilled to be back in the South after spending many cold winters up north.

Jenna comes to Spectrum News from the Windy City. There, she attended graduate school at the Medill School of Journalism at Northwestern University. While at Medill, Jenna was awarded the White House Correspondents' Association Scholarship and recognized by President Barack Obama for her work.

Politico named Jenna one of "the future's best and the brightest."

Before attending Medill, Jenna received a B.A. in Anthropology from Boston University.

When she's not chasing news leads, Jenna loves getting out and exploring her new home.