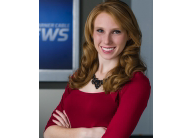 Cristen Drummond joined Spectrum News in October 2014 as a general assignment reporter in the Triad newsroom.
Before moving to North Carolina, she started her career as a correspondent for Go Radio, a subsidiary of Westwood One /Dial Global interviewing various musicians and celebrities at the 2012 Grammy awards in Los Angeles.
Soon afterward, she moved to Macon, Ga. to work at the FOX / ABC affiliate WGXA-TV as a reporter and weekend anchor. During her two and a half years in Middle Georgia, Cristen covered a variety of stories from crime, politics, entertainment, revitalization of downtown Macon and sequestration at Robins Air Force Base.
She reported on the 2013 American Idol auditions in Atlanta, as well as the final day of the Georgia Legislature where lawmakers were debating on legalizing cannabis oil in the Peach State. On the weekends, she produced and solo anchored the FOX 10 p.m. newscast. In March 2014, Cristen received employee of the month.
Born and raised in Los Angeles, Cristen attended Marymount High School. While there, she was a stand out athlete starting on the varsity soccer team all four years and running track. After school, she played for one of California's elite soccer club teams and was recruited by 38 Division I colleges for soccer.
After various recruiting visits around the country, she decided to attend the University of Nevada.
As a member of the Wolf Pack, Cristen received numerous accolades including Freshman of the Year, First Team All WAC, All Tournament team, ESPN Second Team Academic All-District, NSCAA All West Region Scholar Team-Honorable mention, and Nevada Scholar Athlete.
She graduated Nevada cum laude and No. 1 in her class from the Donald W. Reynolds School of Journalism with a degree in broadcast journalism and a minor in theatre.
While in school, Cristen reported and was the in-studio interviewer for the student run broadcast, Wolf Pack Week and interned with CBS affiliate KTVN Channel 2 in Reno.
Cristen lives in Winston-Salem and enjoys exploring the Twin City on her days off.