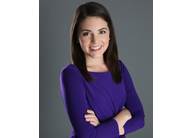 Caroline Vandergriff joined the Spectrum News team as a reporter in December of 2012. Originally from Arlington, Texas, she came to the Charlotte newsroom after reporting for NBC affiliate WILX-TV in Lansing, Michigan.
In Michigan's capital city, she covered state politics, often filled in at the anchor desk, and launched a new segment to address community issues. Caroline received a 2012 Broadcast Excellence Award from the Michigan Association of Broadcasters for one of her investigative feature stories.
Her reporting also helped the station win Michigan Association of Broadcasters award for "Station of the Year."
Caroline fell in love with journalism in college. She graduated magna cum laude from the University of Southern California, where she earned a B.A. in Broadcast & Digital Journalism and a B.A. in Political Science. As an anchor and reporter for USC's award-winning nightly newscast, she worked alongside LA's more seasoned reporters to cover high-profile political elections and important community issues.
When she's not working, Caroline loves to spend time with family and friends, curl up with a good book or get active outdoors. She loves exploring Charlotte, meeting new people and getting involved in the community.