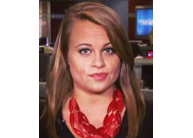 Carly Swanson joined Time Warner Cable News in January 2012 as a news and sports reporter intern while she was an undergraduate at North Carolina State University. She obtained a Bachelor of Science degree in Sport Management, with a minor in Journalism in May 2012.
After graduating, Carly joined Time Warner Cable News as a weekend web producer. In addition to this, she started graduate school at N.C. State in the Communications Master's program. In January 2013, Carly became a special projects producer and started producing and reporting Connect-A-Million Minds stories.
After working out in the field, Carly gained a passion for reporting. She enjoys learning more about people in the Triangle and state. In August 2013, she became a weekend reporter in Raleigh.
She moved to the TWC News Coastal newsroom in April 2014. In May of 2014 she received her Masters in Communication Studies from NCSU
Carly is a North Carolina girl, born in Laurinburg. She moved with her family to Concord in 1998, then moved to Raleigh for school and has lived in the Triangle since 2008.
Carly's interests are in fitness and health (especially running) and sports (football and NASCAR). Carly also interned with Charlotte Motor Speedway and Richard Childress Racing.
Carly was MVP of her track team and still enjoys running today. She runs a race a month with her mom and has run a three hour, 20 minute marathon in the Thunder Road Marathon 2012. Carly won the Krispy Kreme Challenge in 2012. She is also a Oakley Women brand ambassador and enjoys traveling around the country with Oakley, promoting fitness and healthy lifestyles for women.
She enjoys spending her little free time with her family and friends and loves to be outdoors at the beach or mountains.