FIT KIDS CHALLENGE:
Week 1 - Shopping
Take the Fit Kids Challenge! The 4-week challenge, designed with help from the American Heart Association, will encourage you and your family to make simple and healthy choices. From shopping on a budget to staying active with a busy schedule, we can help you achieve a healthier lifestyle. You can also find a toolkit of resources that has tips, facts and additional information on how you can tackle each week of the challenge.

CHALLENGE: Replace junk food with fruits and vegetables
Healthy Eating Tips:
Healthy and Economical Recipes:
Interactive:
At home or at the grocery store, this interactive slideshow takes you and your kids on a healthy shopping scavenger hunt. Begin the interactive scavenger hunt!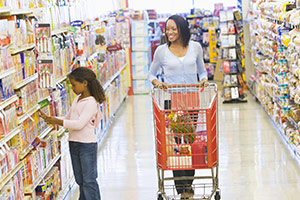 Resource Guides You Can Download:
Fit Kids Challenge: Week 1 Coverage